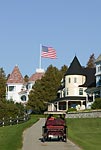 April 7, 2009 carriage
To this girl, who has only known the hum of rubber on asphalt under her seat, the thought of a carriage is just so romantic. Even before color TV with afternoon re-runs of The Big Valley (Heath…what a cowboy dreamboat he was!) I was aware of the magic of carriages. Pioneer stories filled my childhood Sundays, our little legs dangling from the miniature pews in the Jr Sunday School Room. And we had picture books, and stories of my mother's childhood, when they rode to school on a school wagon rather than a school bus in remote Blackfoot Idaho. When Libby and possibly Ann Marie and I were Merrie Miss age, between 10 and 12 years old, we had a sleep over with our teacher, Chris Millard. It was a very real-teenager thing to do and we loved it! We went to the 50 cent movie theatre where Gone with the Wind was playing as part of their Classics Series. We sat on the front row and I think we even had popcorn or licorice or something. When I was a kid we rarely went to the movies, and if we did we certainly did not walk the frivolous walk of popcorn and drinks! We felt so lucky just to get the movie. As an old lady now, in relative terms, I get almost giddy thinking of having popcorn at a movie. A large popcorn and a large drink, even. Sheesh, sometimes our childhood never leaves us. I get that same kind of giddy when it's 2 am and I want some ice cream and I realize that if I so desired I could go open the freezer and have all I want! This thinking makes me scary excited. I wonder if I will ever outgrow it. Anyway, the carriages outside the plantations of the South, racing through the burning streets of Atlanta; it was all beauty and romance.
When Dave Connors held my hand across the altar and gave me his name to love and to nurture, I was wrapped in that romantic blanket for sure! We drove, the day after our wedding, to Michigan, arriving at Mackinac Bay just after the last ferry had left for the Island. My new husband found a speed boat pilot, negotiated a fare beyond our means, and we loaded our small newlywed suitcases into one seat and snuggled in the other as he shot us across the Straits of Mackinac toward Mackinac Island. As the mainland grew smaller, and the Island bigger, Dave pointed to the West Bluff, where a row of 8 or 9 large mansions kept watch over the waters, capped at the end of the row by the Grand Hotel, of the movie Somewhere in Time fame.
He counted aloud, one cottage at a time, until he reached his grandparents'.
"That one," he said as he pointed, "that's the cottage." I squinted my eyes, shook my head, squinted again and then looked him in the eye.
"You're kidding, right?" This was no cottage! This was a 13 bedroom mansion, with real honest to goodness Tiffany lamps and 36 matching press back chairs around the dining table. Servants quarters and a carriage house. Are you KIDDING me? This was the cottage his grandparents were evacuating themselves so we could use it for our honeymoon?
When the boat reached the dock we unloaded ourselves and our luggage. Just as we did a carriage rolled up, with two fine horses and a driver in a vest with a short tailed whip.
"Would you be Dave Connors?" the driver queried and he pulled the horses to attention.
"That would be me…us…", he corrected himself.
The driver was Dave's cousin's boyfriend. He hefted our bags to the back of the carriage and Dave helped be up. Just like Prince Charming. We clip clopped all the way up past the backside of the Grand and came to a stop behind the cottage of any girl's dreams. A large white shake edifice with a welcoming wrap around porch filled with rockers and benches. Dave's cousin Pam had prepared the place and told us Grandma and Grandpa Roy had given our names to the mercantile before they left the island so anything we wanted we just needed to call and they would send it up. We nested in the turret, the George Washington Room, to be exact, and set about writing the first chapter of our never-ending story. Woke in the morning to the sound of waves lapping against the shore below us, the rhythm of dancing hooves on the streets. No motorized vehicles were allowed on the island, only horses, buggies and bicycles. During the day we golfed on the Island Course, and we strolled along the eternal boardwalk of the Grand Hotel at night, dipping in to watch Man of La Mancha one night. We walked along the beach afterwards and talked about dreams and love and God and earth and there has never been nor will there ever be a more perfect moment in time, the Mackinac breezes against our exposed calves, our arms interlaced, our feet leaving prints in the soft sand.
Two summers later our little Johnny rolled around that front porch in his walker while we sat with guitars and sang to Grandma Roy as she knitted. We met Christopher Reeves while he was there filming Somewhere in Time. We spoiled ourselves for any other fudge besides May's Mackinac Island Fudge.
Dave's cousin Pam married that carriage driver. I am still charmed by the prince who captured me and took me across the waters. I guess most good fairy tales do have carriages.
(note: the cottage is the pink roofed one in the picture at the top of this post. It was sold many years ago, when Grandma and Grandpa Roy found it too much to care for by themselves. They had another cottage on the shore of Lake Huron in Tawas, Michigan. Grandpa gave 5 beachfront lots to each of his 5 daughters. Dave's mom built her dream cottage, a sweet little true cottage type cottage, a few years before she was killed in a car accident in 1994. It is still the place we go to feel peace and to feel her.)